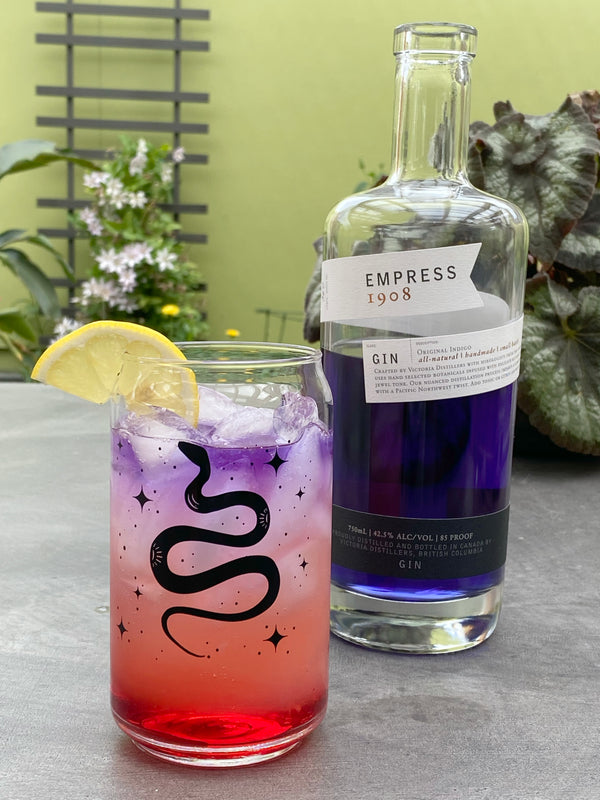 Sunset Lemonade Cocktail
This captivating cocktail is bright, fresh, and one of our all time favorites. The Infused Gin, lemonade, and grenadine (as well as some other fantastic ingredients) make this magical cocktail come to life in your glass! 
Like our Empress Gin Sidecar recipe (check it out if you haven't yet!) this drink uses Empress 1908 Gin which is one of our absolute favorites! Because it contains Butterfly Pea Flower, Empress Gin changes color from a rich purple to pink when introduced to lemon. The Sunset Lemonade uses this quality to create a beautiful tricolor ombre!
Ingredients
1.5 oz Butterfly Pea Flower infused Gin (we recommend Empress 1908 Gin)
.75 oz Grenadine
.5 oz Campari
3 oz your favorite lemonade
2 oz of Soda Water
a squeeze of lemon juice or fresh lemon
Instructions
Build drink in glass. 
Mix your Grenadine and Campari together in a glass
Fill to top with ice (crushed or otherwise)
Gently pour in your Soda Water 
Add your lemonade and lemon juice. Do not mix!
Slowly float your Empress Gin on top to create your final layer
Marvel at the cocktail you've created for as long as you like, but be sure to stir it up before taking a sip!